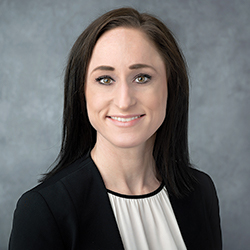 York & Lancaster Offices
Rebecca Leader
Property Manager
Professional Summary
Rebecca serves as Property Manager for 28 commercial properties totaling more than 1.3 million square feet. Her territory includes Lancaster, York, and Lebanon counties. Prior to joining ROCK in 2021, Rebecca worked for The Horst Group as an Association Manager and is a Shippensburg University graduate.
Key Assignments
41-47 Cherry Street, York Co. – Industrial
100-400 Pine Grove Commons, York Co. – Office & Medical
Liberty Place, Lancaster Co. – Office
1275-1287 West King Street, York County – Industrial
Chester Square Shopping Center (4159-4215 North George Street Extended), York County – Retail
20 Grumbacher Road, York, PA (York County) – Large Warehouse Manufacturing Building
2820 Whiteford Road, York, PA (York County) – Retail Center
210 East Main Street, New Holland, PA (Lancaster County) – Large Office/Retail
Northeast Shopping Center, York, PA (York County) – Large Retail Center
3635-3725 Board Road, York, PA (York County) – Large Manufacturing and Warehouse Building
941 Wheatland Avenue, Lancaster, PA (Lancaster County) – Large Multi-Tenant Office Building
Clients
Liberty Property Holdings, L.P.
Education & Certifications
Pennsylvania Real Estate Salesperson License
Lancaster County Association of Realtors, Member
Shippensburg University, BA, Art – Graphic Design
"I have been dealing with commercial rental properties since 1972 and have worked with a lot of real estate companies. I have to say the ROCK experience has been the best. Rebecca Leader's communication skills are great and she always gets back to me with all the little details of everything I asked her about. She never has a problem setting up a meeting with me and the contractors and works hard at getting the best prices. She is definitely someone I would keep on the ROCK team."